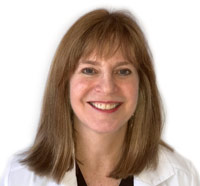 Joining Dermatology Specialists of Georgia has allowed me to focus all my energy and passion on what I enjoy most, which is taking care of my patients! I hold strong to my belief, that despite the ever-changing landscape of medicine, everyone I treat is unique and special. That's why I approach each patient in the same way, the way I would treat and care for my own family. I have a wide range of dermatologic interests, and I am committed to channeling those interests into how I address the needs and wants of my patients. I also have an uncanny eye for detail that I know benefits all of my patients when it comes to making a difference in helping them with their medical, surgical and cosmetic concerns.
Dr. Lori Schaen served her residency in Dermatology at Strong Memorial Hospital in Rochester, New York. Dr. Schaen earned her Bachelor of Arts degree from Williams College, in Williamstown, Massachusetts. She received her medical degree from the University of Cincinnati College of Medicine. Afterward, she completed a one year internship in pediatrics at the Cincinnati Children's Hospital Medical Center.
Dr. Schaen's scope of practice includes comprehensive medical, surgical, cosmetic and laser dermatology. She sees patients of all ages, from infants to elderly, and all skin types.
Dr. Schaen holds memberships in many professional organizations, including: the American Academy of Dermatology, the American Contact Dermatitis Society, the National Psoriasis Foundation, the American Acne and Rosacea Society and the Atlanta Association for Dermatology and Dermatologic Surgery. Dr. Schaen has received multiple honors, including: the Vitals Annual Patients' Choice Award for six years in a row, the American Contact Dermatitis Society James R. Nethercott Clinical Award, the Dr. Ernst Beutner Excellence in Immunopathy Award, the H.B. Weiss Award for Clinical Excellence, and Chief Resident of her dermatology residency program. As a recipient of the Woman's Dermatologic Society Mentorship Grant, Dr. Schaen worked with the internationally renowned Dr. Ilona Frieden, Clinical Professor of Dermatology and Pediatrics at the University of California, San Francisco.
Dr. Schaen is a native of Cincinnati, Ohio. As a former collegiate soccer player, she stays active with her family and three children. Outside her world of dermatology, she enjoys spending time playing racquet sports, chasing her family pets and reading.
Return to provider list