John Louis Ratz, MD, MBA, FACP, FACMS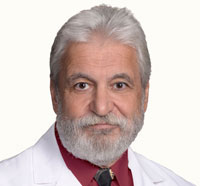 I love taking great care of my patients. For me, the most important aspect of the practice of medicine is the doctor patient relationship. I believe effective communication and including my patients in the decision making process is essential to delivering quality care. I like to solve my patients' problems as quickly, safely and cost effectively as possible.
Dr. Ratz is a strong proponent of the ethical practice of medicine and is an equally strong patient advocate. As an educator, he feels it is important to make sure each patient thoroughly understands their unique situation and all of the instructions for treatment and care. He also feels it is important for our patients to play an active role in decision making, particularly in surgical situations.
Dr. Ratz completed his undergraduate studies at Aurora University and graduated with a "Gold Ivy Leaf," the institution's highest award for academic achievement. He then completed medical school at Case Western Reserve University School of Medicine in Cleveland, OH and went on to his internship and Dermatology residency at the Cleveland Clinic Foundation, where he served as chief resident in his final year. While there, he also completed simultaneous fellowships in Clinical Dermatology, and Dermatologic Surgery and Cutaneous Oncology (including Mohs Surgery).
Prior to joining Dermatology Specialists of Georgia, Dr. Ratz served in various positions at the following academic and medical institutions: University of Cincinnati, Cincinnati VA Medical Center, the Cleveland Clinic, the Ochsner Clinic in New Orleans, LSU, Tulane, the Medical College of Georgia and Augusta VA Medical Center. He has also authored, co-authored and contributed to over 100 publications, including five textbooks on Dermatologic Surgery. Dr. Ratz is considered an international authority on Mohs Surgery, Dermatologic and Cosmetic Surgery, as well as Laser Surgery. His distinctions include being the recipient of numerous quality patient care awards while at MCG, along with being named one of the "Best Doctors in America" as well as one of the "Top Dermatologists in the World" multiple times.
Return to provider list