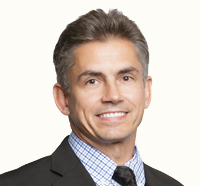 The skin is an amazing organ. It is our primary barrier against infection, it keeps us warm or cool, and it gives us signals about how the rest of our body is functioning. The health and appearance of our skin can dramatically affect our self-image and how others view us. I have had the opportunity to practice dermatology in a variety of settings, literally all over the world. I love all aspects of dermatology – whether it is fighting skin cancers with micrographic surgery, using my specialized knowledge of rashes to diagnose a puzzling disease, or smoothing someone's wrinkles with a laser. Dermatologists treat the very young and the very old and everyone in between. There is nothing like helping patients with their skin problems. They are very happy when their skin cancer, rash, or wrinkle is gone.
George vonHilsheimer, MD, is a board-certified dermatologist with expertise in medical, surgical, and cosmetic dermatology. "Dr. v.", as he is affectionately known by his patients, is a multi-time winner of the Vitals.com Patient's Choice Award.
Dr. vonHilsheimer completed his medical and dermatologic specialty training at Walter Reed Army Medical Center in Washington, DC, with additional training at Johns Hopkins University and the National Naval Medical Center. He is an experienced skin cancer surgeon and fellow of the American Society for Mohs Surgery and the American Society for Dermatologic Surgery. His special interest in laser surgery also led him to complete two nationally-renowned preceptorships in the use of the advanced Sciton laser system. Dr. vonHilsheimer has also been a teacher of dermatology for several years, and currently holds faculty appointments at the University of Florida and the Uniformed Services University School of Medicine. He is also a past faculty member of the Emory University School of Medicine.
Dr. vonHilsheimer is a proud veteran whose prior service as a military dermatologist, flight surgeon, and Apache helicopter pilot gives him a special appreciation for our area's large military community.
Return to provider list