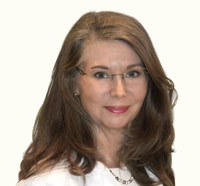 My clinical interests in dermatology include non-invasive skin rejuvenation and the management of acne, eczema and psoriasis, as well as treating a wide variety of other diseases and conditions affecting our patients' skin. Over the years, I have also developed a passion for educating others on the importance of annual skin screenings for the early detection of skin cancer and how we can all protect our skin from the damaging rays of the sun. I am deeply committed to providing the highest level of dermatology care to patients of all ages here in Biloxi, and to making sure my patients always leave with answers to their questions.
After receiving her medical training at the University of Wisconsin Medical School in Madison, Dr. Hansen completed her residency and specialty training at Keesler Medical Center in Biloxi, Mississippi. Prior to joining our team, she served as the Chief Medical Officer at the highly respected Armed Forces Retirement Home in Gulfport and practiced general dermatology at Singing River Health System Clinics in Biloxi.
Dr. Hansen is a fellow of the American College of Physicians and a proud veteran, who served in the United States Air Force, where she attained the rank of major. She also enjoys sharing her love of medicine through education and has been a preceptor for nurse practitioner students for over 15 years.
Return to provider list