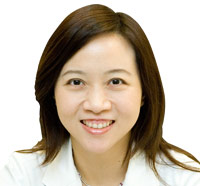 One of my most important goals as a dermatologist is to help all of my patients realize that they can achieve healthy and beautiful skin at any age. I also strongly believe that being part of a dedicated team of providers is the best way to help and empower our patients to achieve the best results.
Dr. Stephanie Lai, M.D., has extensive experience in both medical and cosmetic dermatology, including laser, light and injectable therapies. She is a 1997 graduate of Tufts University School of Medicine in Boston, Massachusetts, and completed residencies at the University of California Irvine and Syracuse University. She completed her dermatology residency at Taipei Medical University, where she served as the chief resident.
Dr. Lai takes great pride in educating her patients on the benefits of routine skin exams and the multiple ways that dermatology can be used to treat and manage a wide variety of skin conditions effectively. In addition, as an experienced cosmetic dermatologist, Dr. Lai has an array of anti-aging options and procedures to offer to her patients. She is an excellent listener and takes the time to understand the concerns of each one of her patients.
Dr. Lai is a member of the American Academy of Dermatology and American Society of Dermatologic Surgery. She has also co-authored articles published in the Journal of Cosmetic Dermatology and the Journal of Drugs in Dermatology.
Her interests include swimming, playing the piano and reading. She also loves spending time with her two school-aged children who enjoy playing tennis and hiking during their free time.
Return to provider list