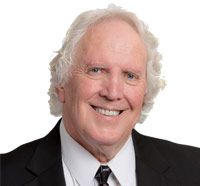 Providing quality care for the dermatologic needs of patients has been a goal throughout my extensive training at The Johns Hopkins Hospital and during my entire clinical career in Georgia. With a career-long interest in clinical-pathologic correlation, I have had the unique opportunity to bridge the specialties of dermatology and cutaneous pathology. This has resulted in a significant experience in not only treating but also understanding diseases of the skin. I especially enjoy working with patients and utilizing these skills to provide quality dermatologic care.
Dr. Jerdan's experience includes helping to build and working as a partner for a large Georgia dermatology practice for nearly 30 years. He also developed and ran his own dermatopathology laboratory. His experience has made him a true advocate for early detection and treatment of skin cancer, as well as, diagnosing and treating a wide variety of skin conditions and diseases.
He is a graduate of the University of Illinois College of Medicine, where he was a distinguished Avery Brundage scholar. He went on to complete his residency and fellowship training in dermatology, pathology and dermatopathology at The Johns Hopkins Hospital. He is a former chief resident in the Department of Dermatology, lecturer and the author of numerous peer-reviewed scientific articles. He is also board certified in both dermatology and dermatopathology.
Dr. Jerdan is an active member of the American Academy of Dermatology, and a past member of the American Society of Dermatopathology, Cobb County Medical Society, the Society for Investigative Dermatology, the Medical Association of Georgia as well as the Atlanta Association for Dermatology and Dermatologic Surgery, of which he was past president and secretary. In addition, he was recently invited to become a member of the Leading Physicians of the World in dermatology and dermatopathology.
As a former All State and Big Ten basketball player, who attended Northwestern University on a full athletic scholarship, Dr. Jerdan enjoys sharing his sports knowledge and coaching skills with local Georgia communities. His love of sports has kept him highly involved for many years as a coach, manager and director of multiple baseball and basketball youth sports organizations.
Return to provider list