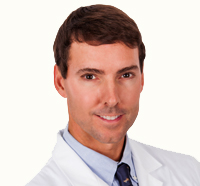 The field of dermatology was a perfect fit for both my skills and interests.  I feel blessed to be able to utilize my God-given talents to treat patients both young and old suffering from skin ailments.  Whether it be acne or more serious conditions such as skin cancer and melanoma, my patients are offered state of the art therapies and treatment modalities.  This comprehensive approach and the comfort of knowing I will be their doctor from start to finish offers both convenience and peace of mind for my patients.
Dr. Stickler joined Dermatology Specialists of Florida after serving as Chief Resident at the prestigious University of Florida Department of Dermatology Shands Hospital in Gainesville, Florida.  Originally from Pittsburgh, Pennsylvania, Dr. Stickler grew up the youngest of five children with plans to pursue a career in engineering.  While attending The Pennsylvania State University his direction turned toward a career in Medicine graduating magna cum laude with a degree in biological science.  His high academic honors and being the son of a coal miner led him to medical school at West Virginia University where he was the recipient of a John L. Lewis scholarship.  He completed his medical school at the top of his class receiving the Outstanding Graduate Award (valedictorian) and induction into the prestigious Alpha Omega Alpha Honor Society.  He then completed his internship in internal medicine and subsequent residence in dermatology at the University of Florida Department of Dermatology at Shands Hospital.
Dr. Stickler and his wife. Johnna, relocated to the panhandle of Florida in 2006 where they raise their three sons, Noah, Christian, and, their new addition, Silas.  Dr. Stickler has served as a past Board member of the American Cancer Society, and currently serves as a local school board member for the SNS.  In addition, he continues to coach youth basketball and is involved in local scouting.  As a former Eagle Scout himself, Dr. Stickler and his family sponsor a scholarship each year to assist scouts in the panhandle with financial need working on Eagle Scout projects.
Dr. Stickler is board-certified by the American Board of Dermatology. He is a Fellow of the American Academy of Dermatology, the American Society for Dermatologic Surgery, and the American Society for Mohs Surgery. In addition to his extensive medical and surgical dermatology experience, Dr. Stickler provides cosmetic dermatology treatments, administering injectable products such as Botox®, Dysport®, Juvéderm®, Restylane®, Voluma® and others.
Return to provider list