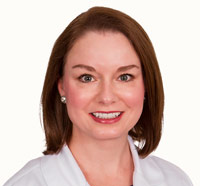 Kelli received her Bachelor of Science degree in Occupational Therapy from the University of South Alabama in Mobile and her Master of Science degree in Surgical Physician Assistant Studies from the University of Alabama in Birmingham. Her prior PA experience includes working in the areas of wound care, bariatric surgery, plastic surgery, and dermatology. Kelli's focus is medical dermatology and includes evaluating, diagnosing, and treating a wide range of skin disorders in both adults and children. She also focuses heavily on patient education including skin cancer prevention.
Kelli is a Physician Assistant-Certified with the National Commission on Certification of Physician Assistants and licensed with the Alabama Board of Medical Examiners. She is a member of The Alabama Society of Dermatology Professionals and the Society of Dermatology Physician Assistants.
Kelli enjoys being a wife and a mom to her two children. She also enjoys spending time with family and friends and being involved in church activities.
Return to provider list