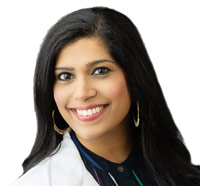 Specializing in both dermatology and dermatopathology has provided me with invaluable insight into the many conditions we see and treat as dermatologists as well as diagnosing and treating skin cancer. For me, it's all about helping patients understand exactly what they are being treated for and making sure we are treating them with the most appropriate options.
Dr. Sahu received her medical degree from Jefferson Medical College in Philadelphia, Pennsylvania, where she also completed her residency in dermatology as well as a fellowship in dermatopathology. After completing her fellowship, she joined Thomas Jefferson University's Department of Dermatology while also serving as an Associate Professor of Dermatology, Pathology and Medical Oncology. She has also participated in numerous ongoing national medical trials and studies and has been a featured guest lecturer for the American Academy of Dermatology.
Combining her dermatopathology and medical dermatology background with her expertise in cutaneous lymphomas, Dr. Sahu is pleased to be able to offer patients a thorough, in-depth evaluation and understanding of their conditions, individualizing therapeutic options and optimizing treatment outcomes.
Dr. Sahu is a member of the American Academy of Dermatology, American Society of Dermatopathology, Dermatology Foundation, United States Cutaneous Lymphoma Consortium and the Cutaneous Lymphoma Foundation.
Return to provider list