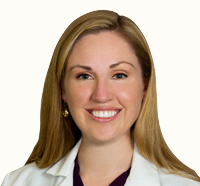 Dermatology is a field where you treat everyone, from the very young to the very old, and can have huge impacts, not only on a person's physical health but on their mental health, as well. While there are many conditions unique to the skin, often the skin is the first place that an internal disease will manifest. I practice dermatology because I love being able to treat the entire family, and provide a comprehensive place for patients to come for diagnosis, treatment and long term follow-up.
Dr. McGetrick joined Dermatology Specialists of Florida in 2015, bringing with her expertise in surgical and cosmetic dermatology, as well as diagnosing and treating skin cancer.
She attended medical school at the University of Chicago Pritzker School of Medicine. Dr. McGetrick completed her residency in Dermatology-Internal Medicine at the University of Wisconsin where she also served as chief resident of Dermatology.
Dr. McGetrick is a member of the American Academy of Dermatology, the American Society for Dermatologic Surgery, Women's Dermatology Society and the International Society of Dermatology.
Return to provider list