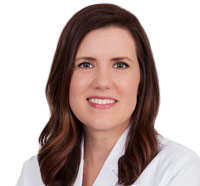 Brittany received her Master of Science in nursing from the University of Alabama at Birmingham after earning her Bachelor of Arts in theology from the University of Mobile in Mobile, Alabama. Her experience includes both medical and cosmetic dermatology and assisting with various dermatologic surgical procedures and anti-aging treatments.
She is passionate about educating her patients on skin cancer prevention and helping them maintain the overall healthiness of their skin. Brittany also believes in helping her patients and their families fully understand what to expect when it comes to the types of procedures they may be having, as well as the medications being prescribed to help them to treat their skin conditions.
She is a member of the Alabama Society of Dermatology Professionals, the American Association of Nurse Practitioners and the Dermatology Nurses' Association.
Brittany enjoys traveling and spending time outdoors with her husband and four children.
Return to provider list